Our customisable suites allow for truly personalised private dining, boasting a capacity of up to 500 dinner guests and a minimum capacity of 50. Our biggest space, WV1, enjoys unrivalled views across the pitch and Wolverhampton city – making it a sophisticated choice for large-scale dinner parties.
Menus designed for private dining in Wolverhampton
---
As part of Levy UK + Ireland, we serve premium food perfect for all dinner events here at Molineux Stadium. Pairing tasty dishes with second-to-none hospitality, our catering makes for impressive private dining experiences in the heart of Wolverhampton.
Through an innovative, forward-thinking approach that's grounded in sustainability, we only use fresh, locally-sourced ingredients in our recipes. This combined with our passion for flavour experimentation and expertly-crafted menus, ensures every dish served at your private dinner party will go down beautifully.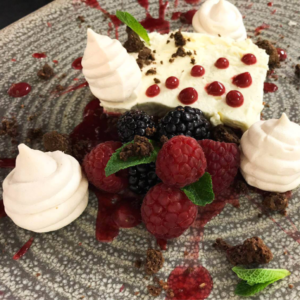 A private dinner venue with lots to offer
---
Whether you fancy four-course fine dining or contemporary grazing boards in WV1+, we're equipped with the some of the most versatile options for private dining in Wolverhampton.
Hosting all events from weddings toconferences, we have more to offer than what you'd typicallyexpect from a standard restaurant setting, including dance floors and AV set-up – meaning you can make more of your dinner should you wish.
As a legendary stadium venue with transport links across the West Midlands, Molineux Stadium makes for unrivalled private dining in Wolverhampton. Our dedicated events team are always on-hand to talk you through our various packages, so whynot reach out to see how we make your dinner party of dreams come to life?